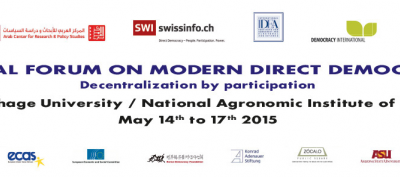 14 May 2015

to

17 May 2015
2015 Global Forum on Modern Direct Democracy
DETAILS
The 2015 Global Forum on Modern Direct Democracy took place May 14-17 at the University of Carthage in Tunis, Tunisia. This 5th world conference on active citizenship and participatory democracy gathered more than 700 people from six continents and more than 50 countries. The main theme of the 2015 Forum was "Decentralisation by Participation" and was co-hosted by the 2015 Nobel Peace Prize laureates of the Tunisian Trade Unions. 
Read the Tunis Declaration on Modern Direct Democracy here: www.democracy.community/stories/global-forum-declarations
ORGANISERS
University of Carthage
PLACE
National Agronomic Institute
Tunisia
Participants
When this function is enabled, you can see the profiles and contact information of the participants planning to attend this event here.