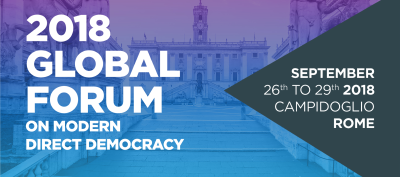 2018 Global Forum on Modern Direct Democracy
DETAILS
The 2018 Global Forum on Modern Direct Democracy will focus on local democracy and the role of cities in addressing today's challenges. At the forum in Rome, a global charter of democratic cities will be presented. We invite cities all over the world to sign on to this charter and join a network of cities who commit to practicing and promoting democracy and citizen participation at the local level.
A Global Call to Cities to Join a Democracy network
To the cities (and local governments of any kind) of the world:
We write you with an invitation – to join a new network of cities around the globe committed to advancing democratic participation.
This new network will launch this September at the 2018 Global Forum on Modern Direct Democracy, a free and public event in Rome's historic city hall, the Campidoglio. The forum will be the guests of the city of Rome and its mayor, Virginia Raggi, who is helping to lead this new network.
globalforum_web.pdf,

magna_charta_for_an_international_league_of_democratic_cities.pdf
Participants