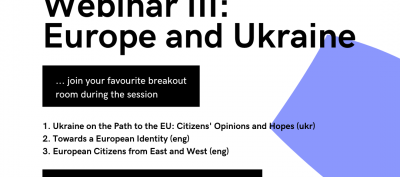 Europe and Ukraine (online)
DETAILS
The project "Europe" is far away from being completed. On a daily basis we question Europe, we debate and we negotiate: Where does Europe even start, and where does it end? What does it mean to be European? And what do we want for the Future of Europe? To complete the work in progress and ensure that it actually improves peoples' livelihoods equally all across the continent, as many of us as possible need to take part in finding solutions - and that's exactly what we're going to do in this last session. We will collect your ideas and visions for Europe's future in that field, publish them on the digital platform of the Conference on the Future of Europe and also hand them over to European decision-makers.
Join the event (18.00 CEST) and discuss in your favorite breakout room about :
1) Ukraine en route to the EU: Citizens' Opinions and Hopes (in Ukrainian)
2) Towards a European Identity (in English)
3) European Citizens from East and West (in English)
flyer_block_2_session_3.pdf
ORGANISERS
In cooperation with Change Communication and the National Ecological Center of Ukraine.
PROGRAMM
The event forms part of the Europe-wide and digital discussion project Ukrainian Vibes - European Public Sphere
SPEAKERS
Co-Director of Foreign Policy and International Security Programs at the Razumkov Center

Prof. Dr. Michael J. Wintle

Emeritus Chair of Modern European History, University of Amsterdam

Editor of Magasinet Røst, Assistant lecturer at University of Roskilde
PLACE
Ukrainian Vibes - European Public Sphere
Ukraine