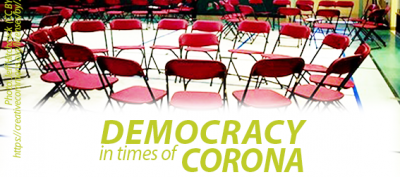 ONLINE: Elections in times of Corona
DETAILS
How has the corona virus crisis affected elections around the world?
In France, municipal elections took place - but only in part - leaving results and campaigns up in the air; London is postponing its mayoral elections with one year; in North Rhine-Westphalia, Germany smaller parties fear a disadvantage as the September municipal elections are going ahead as planned; and in the United States, states are preparing to allow mail-in voting in the November presidential elections, with President Trump attacking it as vulnerable to fraud.
Democracy activists from France, Germany, the United Kingdom and the United States share perspectives from their countries.
Speakers:
Clara Egger, University of Groningen, Achim Wölfel, Mehr Demokratie NRW, Matt Qvortrup, Coventry University, Nancy Wang, Voters Not Politicians
The meeting will take place online, via Zoom on Tuesday 2 June, from 16h00-17h30 CET
ORGANISERS
Academy for a Learning Democracy