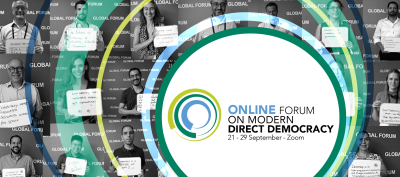 ONLINE FORUM - WS 9: Lessons from the Coronavirus crisis
DETAILS
OPEN SPACE WORKSHOP 9 / 14:00 - 16:00 CEST / Track 4: Democracy in Crisis
The Corona crisis had a strong impact on our everyday life, but especially also on our democratic systems. Elections have been postponed, demonstrations banned, and civic involvement restricted. Democracy International and the European Civic Forum have analysed these limitations and challenges in their projects "Corona and Democracy" and "Civic Space Watch" and will present learnings and recommendations on how civil society can stay democratically active during such a global challenge.
After short inputs by the speakers, we are looking forward to compare and dicuss the presented solutions and best practices with the participants.
Moderator:
Andreas Müller, Managing Director - Democracy International e.V.
Links:
- "Corona & Democracy": https://www.democracy.community/global-forum/democracy-times-corona
- "Civic Space Watch": https://civicspacewatch.eu/solidarity-amid-covid-
Online Forum Confernce Guide