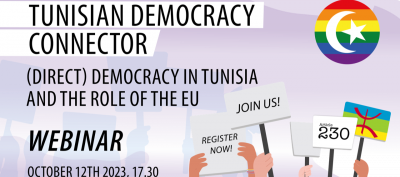 Webinar: (Direct) Democracy in Tunisia and the Role of the EU
DETAILS
As the first round of the 'Tunisia Democracy Connectors' program draws to a close, we want to take the opportunity to discuss some of the most important issues we have worked on during the last six months: the worsening state of democracy in Tunisia, tools of democracy and whether direct democracy can fail, the recent immigration deal between Tunisia and the EU, and the lived experiences of LGBTQ+ individuals in Tunisia.
A range of speakers from different backgrounds, including activists from Tunisia and other countries of the MENA region, will be present to talk about their experiences and perspectives.
There will be time to ask questions and have a debate towards the end of the webinar – this is a great opportunity ask anything that's on your mind!
ORGANISERS
Antonia Oschmann
Elena Staudinger
Khaled Ghrairi
SPEAKERS
Trainee Democracy International and Tunisian activist

Global Manager PR and Community building Democracy International
Participants
When this function is enabled, you can see the profiles and contact information of the participants planning to attend this event here.