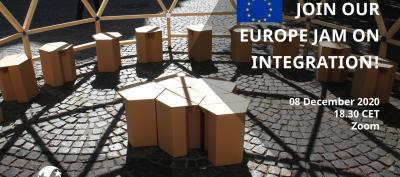 Europe Jam on Building Blocks for European Integration
DETAILS
Your future - Your turn to design it! 
The European Public Sphere – Europe 2.0 creates an open laboratory for Europe's future questions. And these should be answered by those who will live with the ideas the longest: young Europeans such as yourself. 
Up next on December 8: issues related to "Building Blocks for European Integration".
We will talk about the political, historical process and problems of the European Integration. 
What should be the next steps for our united future and how do we keep Europe and the European Society together (in times of Brexit and rising nationalism)?
As a result an online exhibition will show your demands for everyone to see on the European Public Sphere web page and we will send it to the European Commission!
The online discussions will be hosted on Zoom.
 Sign up now at 
https://www.publicsphere.eu/2020/08/europe2-0/?lang=en
Supported by the ALFRED TOEPFER STIFTUNG F.V.S. 
ORGANISERS
Joining us for the discussion:
- Dr. Robert Stüwe - ZEI Center for European Integration Studies 
- Rita Stadtfeld - ESK Europäisches Solidaritätskorps
- Nicolas De Santis - Brand EU
- Hugo Mann - European Movement UK
- Balint Josa - UNITED for Intercultural Action
- Maria Freitas - Foundation for European Progressive Studies
- Elisa Gambardella - SOLIDAR
- Ana Saphic - European Movement Montenegro
- Adnan Cermagic - European Stability Initiative
- Nini Tsiklauri - Pulse of Europe Austria
- Erik Havenaar - Youth Center of European Integration
- Utta Tuttlies - Together EU
Participants