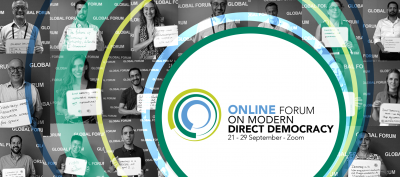 ONLINE FORUM - With direct democracy for better cycle paths
DETAILS
18:30 - 20:00 CEST / Track 2: Climate, Sustainability and Direct Democracy
Throughout Germany, citizens are getting involved in municipal citizens' initiatives to improve cycle paths in their towns and villages. There have now been over 30 such citizens' initiatives all over the country. The North Rhine-Westphalian initiative "Aufbruch Fahrrad" was organised by the NGO RADKOMM and is the largest initiative at German state level to date.
RADKOMM is an NGO in Cologne, Germany that organises an annual conference on urban mobility and cycling to support sustainable transport and more liveable cities. Sonja Thiele is part of RADKOMM's social media team since the launch of  "Aufbruch Fahrrad" in 2018. She lives near Bonn where she works with many others on improving local cycling infrastructure through a petition for a referendum ("Radentscheid Bonn") that will be completed by the end of September.
Workshop in German and English.
Online Forum Conference Guide
ORGANISERS
Mehr Demokratie e.V.