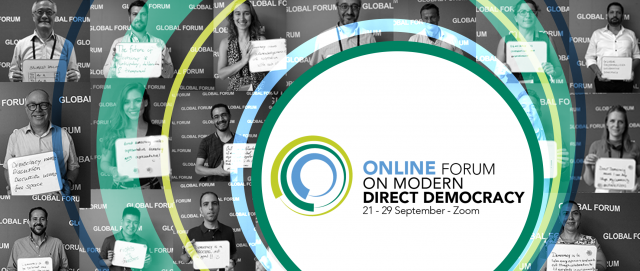 We're taking the Global Forum online!
Join us for the first-ever Online Forum on Modern Direct Democracy! The world's largest gathering devoted to issues of direct democracy and citizens' participation, this year will take place in cyberspace.
The Online Forum on Modern Direct Democracy will take place from 21 – 29  September 2020 on Zoom.
Throughout our week-long conference we want to bring together perspectives on democracy from civil society, academia and administrations.
We will focus our attention on four thematic tracks:
A completely open and accessible Forum
The Forum is of course free to attend and open to all, as always, but it is also a participatory conference. We want to hear from you: send us your inputs!
We will organise our session at different times of the day to accommodate different time zones. The majority of sessions will also be livestreamed an published on this website, so that participants around the global have the opportunity to join in.
We are very excited that this edition will be our most accessible to date: there won't even be a need for you travel long distances. You can participate in the Forum from the comfort of your own home! All you need to do is register on this page and tune in in September.
Stay in touch ahead of and during the Online Forum on Modern Direct Democracy - Sign up for our Telegram Channel: https://t.me/GFMDDgoesOnline