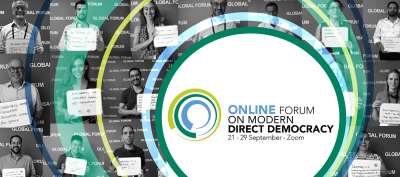 ONLINE FORUM - Workshop 8: WS8 On our future - From competitive to co-creative democracy
DETAILS
OPEN SPACE WORKSHOP 8 / 14:00-16:00 CEST / Track 3: Future of Democracy
Up to now, Western democracies have been dominated by parties and lobby groups that try to gain political majorities for their goals. Politics often appear as a strategic struggle, not for the common good but for one-sided claims of powerful groups that see their limited perspective as paramount. In the future, democratic decision making should and could be dominated by heterogeneous groups of citizens who discuss and act in their common good. Instead of forming competing interest groups, they could share their views and combine them to create new solutions in a co-creative and environment.
In our workshop we will focus on innovative democratic tools like citizens' assemblies, systemic consensus principle, hybrid online/offline solutions,... that will enable us to put co-creative democracy into practice. We will also present how to reach this goal without extensive political reform: cooperative communities.
Online Forum Conference Guide
SPEAKERS
Co-developer of the Cooperative Communities governance model

PhD, co-founder of the Berlin-based think tank denkzentrum|demokratie
Participants
When this function is enabled, you can see the profiles and contact information of the participants planning to attend this event here.