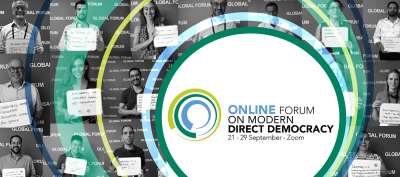 ONLINE FORUM - WS2: Catching the deliberative wave
DETAILS
OPEN SPACE WORKSHOP 2 / 14:00 - 16:00 CEST / Track 2: Climate, Sustainability and Direct Democracy
Randomly drawn citizens' assemblies are booming: they are organised around the globe to formulate solutions to political issues. The OECD even reports a veritable "deliberative wave". Citizens' Assemblies discuss burning issues such as the climate crisis, transport policy, the Covid-19 pandemic or waste disposal. The citizens who were randomly selected then discuss concrete action for policymakers.
We'll present the development of deliberative democracy worldwide and focus on the Citizens' Assembly in Germany last year, where160 citizens discussed the future of democracy. Their 22 recommendations are currently being considered by the Bundestag. A first consequence is the implementation of second citizens' assembly on Germany's role in the world under the patronage of Wolfgang Schäuble, President of the Bundestag. Both assemblies are organised by civil society.
Online Forum Conference Guide
ORGANISERS
- Mehr Demokratie e.V.
Participants
When this function is enabled, you can see the profiles and contact information of the participants planning to attend this event here.