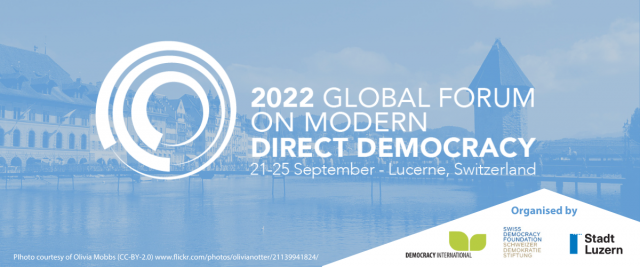 "Democracy going forward" 
The Global Forum, the world's largest gathering devoted to participatory and direct democracy, was held from September 21 to 25, 2022, in the beautiful lakeside city of Lucerne, Switzerland. This years World Conference was hosted by the Swiss Democracy Foundation in cooperation with Democracy International and the City of Lucerne.
After 14 years, the Global Forum returned to the country where it all began in 2008 with the Aarau Forum. Coming out of a devastating public health crisis and moving closer and closer to an irreversible climate disaster, we will have much to discuss. We looked both backwards to the long Swiss tradition of direct democracy and forwards to innovations that combine tools of direct and participatory democracy, to ways to use direct democracy to protect our planet from climate change, and to best practices for youth democracy.
On the last day of the Forum - 25 September - we were able to witness direct democracy in action, as the whole country headed to the polls in a national voting day.
Read the Lucerne Declaration on Modern Direct Democracy here.