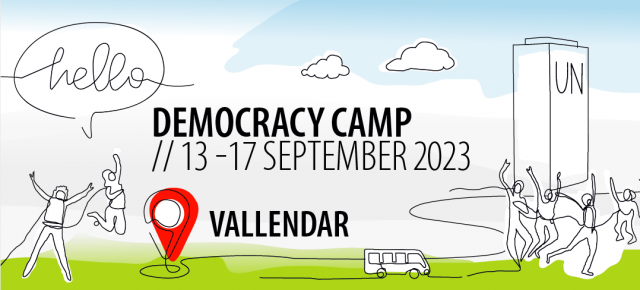 In a nutshell
The Democracy Camp is your five-day-intercultural exchange on democracy, sustainability, and intersectionality - and the interconnections between them. Join our community of 60 young people up to the age of 25 from/living in Germany, Switzerland, Czechia, Poland, France and Austria.
What exactly does that mean?
We'll explore two guiding questions: What participation tools are available to me? And how can I use these tools to promote sustainability and inclusive societies?
Together we'll identify a wide variety of democratic best practices in sustainability and justice. We'll expand our understanding of political levels from the city to the UN and the role of the EU. And we'll learn how to successfully run our own projects in the future. 
What activities will I engage in?
Digital kick-off on 22 August at 8 pm CET. Here we'll collect your ideas for topics, methods and anything else that's important to you. After all it's your Camp. And of course, you'll get to know each other and the seven partner organisations from six countries!
 
Democracy Camp from 13 to 17 September! Our base will be in beautiful Vallendar, Germany right at the river Rhine. Here we'll enjoy activities like round tables on participation methods for young Europeans in the different partner countries and the EU, a workshop on intersectionality with the Diversity Ambassadors from Mut-zu-Taten and a workshop on project management skills like management, campaigning or fundraising. 
 
From Vallendar we'll embark on an excursion to the UN Campus in Bonn, explore a place of unsustainability like Hambacher Forst where the interests of climate activists and the economy collided during the climate strike, and discuss with organisers of local citizens' initiatives and referendums on sustainability issues.
 
And we'll celebrate youth participation in our final Democracy Camp party on Saturday evening!
 
After the Camp: We'll publish your ideas for improved youth participation and promising tools to foster sustainability and inclusive societies at different levels in a handbook. After your feedback on the first version, we'll then send this handbook to decision-makers in Europe like the 705 Members of the European Parliament.
How can I join?
Participation in the Democracy Camp is free of charge for all young people. The organisers will cover all costs, including your travel to and from Germany. Just register via the button below! There are only two criteria:
You are 25 years of age or younger
You feel comfortable enough to speak English for five days 
If you're a minor, you'll need the signature of your parents (minors will always be accompanied).  
We want our Democracy Camp to include as many diverse voices as possible so we especially encourage you to register if you identify as part of a politically or otherwise marginalised group. Please let us know what you need to take part in the Camp so we can best accommodate you!